ECOMOSTM Series

Overview
ROHM offers a lineup of eco-friendly ECOMOSTM, the series utilizes original low voltage process technology for ultra-low drive and ON resistance. This makes them compatible with low output voltage ICs requiring low power consumption as well as low power voltage power supply circuits. Ideal applications include battery-driven LEDs and charge control switches.

ON resistance is dramatically lower than conventional 2.5V MOSFETs, resulting in approx. a 90% drop in power consumption while ON. A wide lineup of package types (15) is available, from 1006-sized units (VMN3) ideal for small signal to medium power applications to larger 4532-sized products (MPT6). A number of different configurations are also possible, such as Nch, Pch, single-/dual-element, and hybrid units that integrate a Schottky barrier diode.
Features
Low Voltage Drive
Stable Gate-Source drive at 1.2V and 1.5V (0.9V drive also possible).
Low ON Resistance
TSMT8 (3024) package products feature an RDS(on) of 8m (typ.) at VGS=4.5V
Broad Lineup
VMN2 (1006) to MPT6 (4532) packages are available in a range of voltage resistances (12V-60V) and rated currents (0.2A-9.0A)

| | |
| --- | --- |
| Hybrid types with an internal Schottky barrier diode are offered that reduce both part count and mounting area. | |
Circuit Application Examples
Ideal for load switches, LED lamp drive, muting circuits, DC/DC converters, battery charge control, and other circuits requiring low voltage drive and low ON resistance.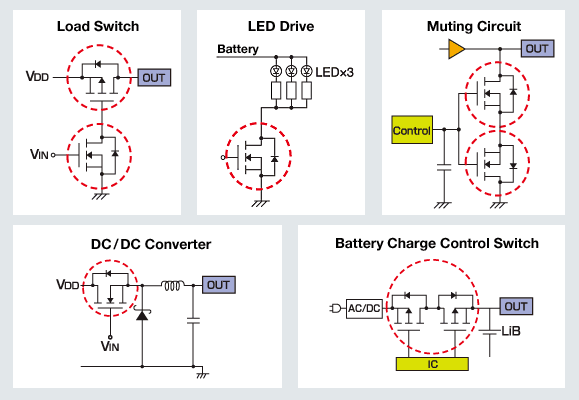 Applications
Mobile phones, digital cameras, DVCs, digital SLRs, portable audio, notebook PCs, and other battery-driven devices.

Lineup
Over 50 types are available, with more coming soon. (Click here for additional details)
Single 1.2V Drive Products (Nch,Pch)
Dual 1.2V Drive Products (Nch+Nch,Nch+Pch,Pch+Pch)
Single 1.5V Drive Products (Nch,Pch)
Dual 1.5V Drive Products (Nch+Nch,Nch+Pch,Pch+Pch)
Hybrid 1.5V Drive Types with SBD (Nch+SBD,Pch+SBD)